Brandi Chastain – a very approachable, very inspiring, very real Olympian Soccer Mom…
The Saturday morning mist and wet soccer fields could not keep kids, parents, athletes, North Providence, RI dignitaries, coaches, bloggers and soccer fans away from the Libby's Table Soccer Clinic with Olympic champ Brandi Chastain…
For good reason.  Brandi has teamed up with Libby's to share ways to keep kids healthy and active during this back-to-school season, and Brandi, an Olympic athlete AND a Mom of 2 boys, knows a thing or a thousand about health and activity!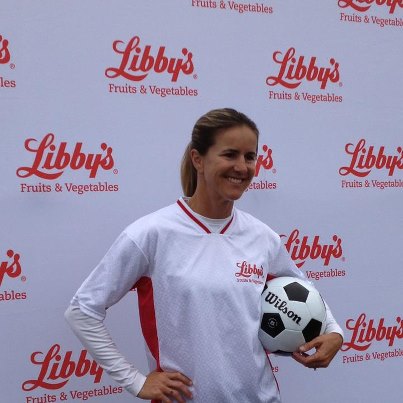 Myself, as a fitness Boomer and a Grandma of 9 young athletic grandkids (two who are now playing soccer!), I listened to Brandi with both interest and awe.  First, Brandi is unquestionably kid-oriented.  I love this.  I watched her smiling and signing autographs, getting down on her knees to be face-to-face with kids who wanted a photo with her, and taking time to connect, to talk, to interact with these young athletes as individuals…
I watched Brandi conduct soccer clinics all morning… not just as the star she is, but as a real-live coach with an immediate connection to this community in Rhode Island.  I listened to Brandi speak with great passion about her own childhood as a soccer player, about family and the importance of family meals; about how all kids need adults to be open-minded and open-hearted as they try new things and experience new things… new sports and new endeavors; about how we as adults need to be healthy influencers.
I know how sometimes it's very difficult in our very fast-paced, very quick, very busy lives to eat and to influence perfectly.  Ah, yes…  I know this, and this is why I love quick, easy, healthy snacks for my grandkids and myself both at-home and on-the-go.  I'm the Grandma who shows up at soccer games, swim meets, lacrosse, football and basketball games with coolers and bags filled with goodies, and Libby's makes this so, so easy and fun with its Single Fruit Cups of healthy deliciousness…
I know when I'm heading out for a run or returning from a run or a swim or bike ride, I want something quick, easy, delicious and healthy.  Just like Brandi, I know that Libby's is always on Snack Duty!
Libby's is a healthy influencer, Brandi is a healthy influencer, and it doesn't take much to see how these kids are influenced in a healthy way…
Yeah, even "kids" like Janie and me…
One of the highlights of the day was watching the kids' (and grown-up!) excitement as Brandi handed a $5000.00 check from Libby's Fruits & Vegetables to the North Providence Youth Soccer League…
… promoting health, fitness, and Brandi's very, very special place in the hearts of all those soccer players from North Providence.
It was a great honor to be in the presence of a woman, a Mom, an Olympic soccer player who cares so much about kids.  It was a great honor to listen to and watch Brandi's passion for her sport inspire everyone who attended the Libby's Snack Duty Soccer Clinic.  It was a great honor to join Brandi Chastain at Libby's Table…
A woman, a Mom, a daughter, an Olympic soccer player with a special place at Libby's Table – Brandi Chastain
was last modified:
July 18th, 2017
by