We're total bagel and cream cheese lovers in the McClelland household.
I love them.
Matt loves them.
And (ahh…) the boys love them.
It's a win-win-win.
For me, it's the easiest thing to serve the boys because it's nutritious and it's something they all love. Believe me, there's NO complaints when I serve bagels with cream cheese, everyone's happy – and that makes me happy.
Since we're a busy family, especially coming off a summer of swim team and tennis lessons every morning, I'm all about prepping the boys, Matt and me bagels, wrapping them up and letting us eat them on the way to practice. As a mom, you suddenly fall in love with foods that are convenient to travel with, but most important… delish, too! It's a 20 minute drive to the pool and the tennis courts, so I love getting there and knowing we're all fueled up! And, not to mention… with school starting next Wednesday and everyone's schedule being different (2 all-day kids at school, 2 1/2 day kids at school), life gets tough again, just in a different way and directions!
So I rely on easy, healthy and delicious breakfast foods me the boys, Matt and myself.
I am in LOVE with this delicious collaboration between Thomas' Bagel Thins and Laughing Cow.
I've been eating Thomas' Bagels forever! There's never a time when our bread cabinet is stocked with them. I've always been a bagel lover, and for me… even before kids and marriage, I was a Thomas' bagel lover, so my love as evolved over into my family! But I have to say, I've never been more excited to hear about their Bagel Thins! Breakfast just got better with Thomas' Bagels introducing the first trim bagel option. Each soft and delish Bagel Thin variety is just the right size and contains 110 calories per serving (hello, how amazing is that!?). They are available in 100% Whole Wheat, Cinnamon Raisin, Everything and Plain. I love the thinness and I love that they taste just as good, but they're so much better for me!
But let's talk toppings, too.
I am LOVING this collaboration between Thomas' Bagel Thins and Laughing Cow, talk about perfection!
Laughing Cow's Smooth Sensations Cream Cheese Spread is the absolute-most-delectable topping ever!
Laughing Cow is just introducing their deliciously rich, melt-in-your-mouth cream cheese spreads called Laughing Cow Smooth Sensations™ Cream Cheese. It's masterfully churned for a delectable creaminess and an exceptional taste. But the best part of all… with 45 calories in each 1/3 less fat wedge, they're ready to enjoy on your morning bagel or as part of a satisfying midday snack. Try spreading Smooth Sensations™ on your favorite breads, vegetables, fruits, crackers – the possibilities are endless!
I am using them like crazy on my Bagel Thins!
Plus, I just love love love how they come in these single servings, so easy to portion out!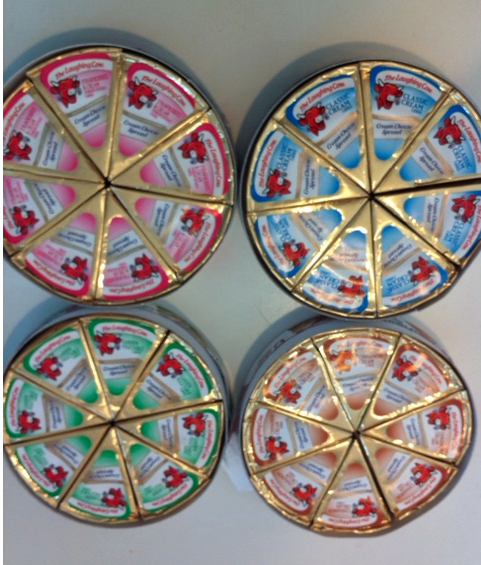 And then you spread on your bagel and you're GOOD! Deliciousness time!
What a perfect collaboration!
Disclosure: I was sent Thomas' Bagel Thins and Laughing Cow Smooth Sensations to review.
Delicious collaboration between Thomas' Bagel Thins and Laughing Cow
was last modified:
August 22nd, 2012
by