Wedding Countdown 'til Jane & Brian's Wedding – 3 Days!
It's official.  The Church Programs have been printed…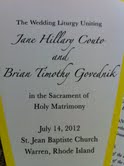 And thinking of everything, especially the sultry days of July in New England, Jane designed the programs in a fan-style…
… for a wisp of comfort.
The forecast for Saturday is mid-80's and sunny!
Yes, it's official.
3 Days and Counting.
Wedding Countdown: 3 Days 'til Jane & Brian's Wedding
was last modified:
July 11th, 2012
by