I'm still in Nantucket for the incredible Cercone Brown Summer House… and I'm having a BLAST!
The weather is gorgeous.
The company is fabulous (I'm with my best friend Vera!).
The activities are beyond cool.
It's heaven here. The only thing missing are my boys.
And in typical Nantucket fashion, we got to check out Vineyard Vines last night and they gifted all of us with some gorgeous goodies! I'm drooling over the tunic, sweatshirt, scarf and flip flops… PERFECTION!
Classic.
Preppy.
Luxury.
I was drooling over the styles and fashion.
I'm literally obsessed with Vineyard Vines (and not only for myself!).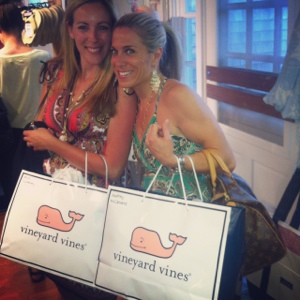 Obsessing over Vineyard Vines
was last modified:
June 21st, 2012
by