What?!
Come again?!
Did I just hear 3 little guys ask if they could "clean?"
I'm going back to yesterday morning for a few moments here, at Audrey and Matt's home… just after I scored borrowed the Thank you, Mom P&G jacket.
Matt and William had taken off right after breakfast for an exciting 1st-grade field trip.
I began to clear the breakfast dishes from the kitchen table.  I asked Alex to please get me a damp paper towel to wash the table.
Alex came back with, "Can I wash the table?"
"Sure," I said.
But that simple "sure" seemed to leave Ben and Henry out of all the cleaning fun.
"Why can't WE clean?" asked Ben, as insulted as if I had told him that he was the one who had to clean.
"Yeah," chimed in Henry.  "WE want to clean, too."
"Um. OK," I said, thinking thinking thinking about what kind of cleaning I could muster.
But before I could blink, Henry was standing before me with a broom and a Swiffer mop.  "Can I use both of these?" he asked…
"Yep," I answered, kind of scratching my head, somewhat shocked.  I found some dry Swiffer cloths and Henry went about his cleaning.
Ben asked if he could use the "little sucker thing", and he knew just where to find it…
I plugged it in and Ben was, well… all smiles with his cleaning.
I turned to see Alex wheeling in a vacuum cleaner, virtually bigger than himself…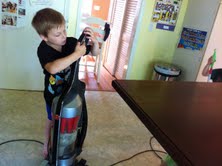 Alex took some time to explain to me all about the digital workings of this super-machine (and quite frankly, I couldn't follow the technological intricacies of it all), then he SMILED as he began his cleaning…
I'm posting this for these boys' other Grandma, Grandma GoGo… and wondering what the heck is going on!?
Is there some Cleaning Super Hero out there that I'm not familiar with!?
Was I in a temporary alternate Cleaning Universe!?
Or was I imagining the whole thing?  (No. Wait.  There's photo proof.)
Next? McClelland Boys Cleaning Service uniforms!
And a slogan:  I only clean when my brothers clean. 
"Grandma, can we clean?" (This post is for GoGo!)
was last modified:
July 19th, 2017
by