runDisney's Tangled Royal Family 5k – 6,000 runners, 6,000 stories… Sing Bibbidi-Bobbidi-Boo and get ready for the family fun, festivities and inspiration of runDisney… Discover runDisney photos in here, the marathon race providers of The Walt Disney Company, where runners dressed in Disney-themed gear race through the theme parks! See all of my personal runDisney photos!
Runners are like open books, happy to share their stories of races, of training… but most especially happy to share their journeys to begin this thing we call RUNNING. When running a race, I always imagine the story of the person in front of me, or the person I'm gearing up to pass.  And oh yes, the stories of the runners rushing by me!
runDisney Photos – A running race is a river of stories

My running story began 3+ years ago at age 56.  My first page was lacing up an old pair of my daughter Jane's running shoes and opening my back door.  I had watched my 4 children and in-law children and then young grandchildren begin or continue their own running stories, and one day it was just plain time to begin mine.
My first pages were more comedy (think Dippy Dawg – Goofy!) or even downright monstrously Kracken-ish, with arms and legs flailing.  Seriously. Yikes.
But I loved running.  My story began to take shape .  It turned from comedy to non-fiction to a bit of fantasy, dreaming of going from one step, one night, to running a full marathon.  And I did.
runDisney Photos
But never in my wildest fantasies did I imagine that my story would take me, last weekend, to Disney World as part of runDisney's 2012 Princess Half Marathon Meet-Up and to run the Tangled Royal Family 5k, my very first runDisney race (kind of like leaving my own Repunzel "secluded tower" of running and venturing out into the world)!
And very early last Saturday morning, I was up before the crack o' dawn at the amazing Disney's Animal Kingdom Jamba House Resort to join the other Meet-Up Princesses and just about 6,000 other runners at the fabulously fun runDisney TANGLED ROYAL FAMILY 5k…. where each of our new chapters combined, converged, blended, flowed into a magnificent storybook river as part of the magic that only Disney can create!
The Tangled 5k was designed for Princesses and their families as a fun-filled way to kick-off a runDisney fairy tale weekend.  And fun-filled it was!  Comfortable transportation from the Event Host Resorts.  Bejeweled, costumed and tutu-ed and tiara-ed adults, tweens, teens and kids.  Room for a stroller division.  On-course Disney characters.  Awesome bling finish medallions and photo-ops.  And, of course, Goody Bags and plenty of incredible post-race refreshments. 

Princess Colleen Padilla and her beautiful daughter Kenzie were there…
Princess Lorraine, Princess Renee and Princess Katye were there…
Princess Kelly, aka Snow White, was there…
Princess Kim and Princess Amy were there…
I was there!
Along with thousands of runners getting ready to make this run, on this day, another page of a dream come true…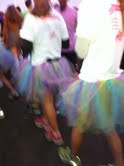 And ah, the stories to tell…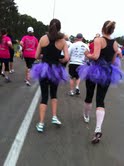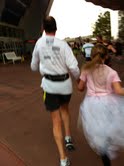 runDisney Photos
I just had to know this man's story… running in the t-shirt with these words: RETIRED NAVY CHIEFS – not as loud, not as caffeinated, but still as proud to be initiated. My Dad, now deceased, was a retired U.S. Navy Chief.  It took me quite some time and quite some sprinting to come up beside him and tell him about my Dad.  This man was so friendly and willing to share his story, telling me that his wife, son and daughter were somewhere along the 5k and that he had begun running again just this past January.  He's lost 20 pounds… !
I can hear the cheering spectators!
I see my new friend and fellow grandmother, GrandMary, whom I met just yesterday, waving at me and blowing kisses!  Mary's story is similar to mine.  We both began running later in life and Mary wants to start her own running blog.  Go for it, Mary!
And BIG smiles…
A Royal Family celebration, like Princess Fitz and her beautiful family…
Families. Smiles. Goals. Achievements. Stories.
A run is more than putting one foot in front of the other.  A run is fun, a personal goal, an accomplishment, sometimes even the seemingly impossible.
A run is something that runDisney understands.  A run is magic.  A run is YOUR fairy tale come true, no matter your age, ability, shape or size.

A running race IS a river of stories… each unique like separate droplets of water, but all combined, all flowing, all part of one another.
What I love about runDisney is that it encourages people to write their first words, to complete their first page, to LIVE their stories that were once fantasies, to inspire others… and to make dreams come true.
Just like the Tangled Royal Family 5k did.

I hope you enjoyed all of my runDisney Photos!!!
Disclosure: Thanks to runDisney for letting us attend this event as media and covering our 5K race fee and hotel expenses. As always, all thoughts and opinions are our own.
runDisney Photos
was last modified:
February 1st, 2019
by