There's one thing about me, I'm always up for a challenge.
Always.
Especially a fashion one. (The best kind.)
QVC has asked me to take part in their Style Challenge this week, which I'm absolutely excited about and fashionably delighted to participate in!
So what's this QVC Style Challenge all about??
Each day this week I'm taking one of the fabulous accessories from the Joan Rivers' Classic Collection and working them into my own personal style. This is the perfect week for this Style Challenge because I have such a "regular' Audrey week, and I think it will be a ton of fun for me to work in the pieces. I have my TV segments this week, business meetings, mom meet-ups, playdates and a crazy-busy-sports week for my boys. Oh, yes… this is going to be a lot of FUN!
Joan Rivers is a fashion icon. She always looks fabulous, and as a mom… I personally love the fact that she (fashion) caters to moms through her Collection in helping them (in easy ways) look and feel beautiful. She's one of my faves out there and I'm honored to be participating in this with Collection!
Today I'm sporting the Joan Rivers Woven with Style Sequin Scarf.
This is what I love about it. I wore it this afternoon while I was hanging out at home filling out Ben's birthday party invites and just working around my office. I still wanted a little bling-bling because I had a friend stopping over, but I wanted to be casual. This scarf is perfect for combining the worlds of casually chic.
This is how it worked in my "world" today…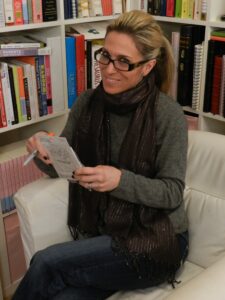 I really wanted to show how easy this can fit into you lifestyle. As busy moms, it's important to have these gorgeous touches in our closets that will bring a basic outfit into a fashion staple!

Disclosure: QVC sent the product for review for the QVC Style Challenge on my blog.
Mom Fashion Report: QVC Style Challenge – Day 1
was last modified:
July 19th, 2017
by