Diapers, Dashes & runDisney… a Royal Family affair!
I must put this out there right now…
I'm a Grandma.  A Grandma of 9.  (Well, actually, a Princess Grandma of 9, since I ran the Tangled Royal Family 5k and the Princess Half Marathon!)…
My heart melts easily.
But the Disney Royal Family Kids' Races during the 2012 runDisney Princess Half Marathon Weekend created a whole new category of Grandma melt in my heart!
Last Saturday, when my husband Barry (aka Pop-up) and I arrived at the ESPN Wide World of Sports Complex, located in the heart of Walt Disney World Resort, we were instantly mesmerized with the aura of SPORTS, FUN, ENTHUSIASM, KIDS!  We are a sports family and this day of Disney Royal Family Kids' Races was a true celebration of sports, family & fun.
We looked at each other and said, "We have to get the kids here!"  ("The kids" are our grandkids – 2 girls & 7 boys – 3-11 years old.)
We could hear the cheering, that great rise of happiness that comes with awesome, fun competition as we headed to the truly state-of-the-art Track & Field showcase.  It was such a beautiful afternoon, too, and everyone was just plain happy.  Us grandparents look for this kind of happiness with our grandkids…
The Kids' Races get the younger princes & princesses into the fun and action of a runDisney weekend.  Kids ages 13-and under can participate in age-group races from the 100-meter dash to the 1-mile run.  And let's not forget the infants and toddlers who can even crawl their races, appropriately called Diaper Dashes!
Oh, heart melt again!
Everyone was smiling…
Everyone had a great place to view the races (especially perfect for grandparents!), from the sidelines to the expansive stadium seats…
Everyone had wonderful Disney photo opportunities…
From each start…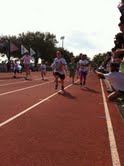 To each FINISH…
The afternoon at the races was pure magic!
But the one magical moment that Barry captured from the stadium seats will go down in heart-melt history…
One dream-come-true moment… arms outstretched, ready to embrace the littlest competitor in a swirl of Disney magic.
Ah.
The thing about runDisney is not only the feeling of magic, but the actual magic of getting everyone involved – the entire family.
Barry and I can run.  Our adults kids can run.  Our oldest & youngest grandkids can run.  And I'm talking special runs, where even the littlest ones in our family can wear race t-shirts, get goody-bags & refreshments (kids love refreshments!) and take home awesome race medals!
MAGIC… here we come!
(Maybe all this Family Magic has something to do with the pixie dust in the Disney air!)…
Could you just melt? Disney Royal Family Kids' Races!
was last modified:
July 19th, 2017
by