I spend a lot of time online. So a lot of my shopping gets done – you guessed it – online.
In the last couple of weeks alone, I've opened my door to find packages containing: a food processor, hand sanitizer, books, canvas prints, shampoo/conditioner – and dog food.
Ordering dog food online was a new one for me. I'm used to buying it at the pet store, which I usually only go to when I need to, well, buy dog food. Like, really need to by it.
To be honest, I'm not great at planning ahead. (And not just for the dogs' food, by the way – for me and Brian, too.) I usually see that we are way low on dog food and have to make a quick run to the pet store. And I always tell myself that next time I won't wait until the last minute.
So when I was asked by MrChewy.com to use its site to order food in exchange for honest review of its services, I jumped at the chance.
Not only does Mr. Chewy have over 70 popular brands of dog and cat food, treats and supplies – but the prices are extremely competitive (particularly in this economy, price matters), the site offers free shipping on orders over $49 (let's be honest, I rarely spend less than $50 on dog food and supplies), and the site allows you to set up a delivery schedule (read: no more needing to make a last-minute run to the store for food!).
But as I stated above, I'm a pretty savvy online shopper, so I have certain expectations when I order something on the web. I want an easy-to-navigate site. I want good communication so I know my order is being processed and shipped. I want a quick response if I have a question. And I want my order to get to me promptly.
In short, I want a hassle-free shopping experience. And I have to say that Mr. Chewy exceeded my expectations.
The site has a great layout and the ordering process was extremely easy. I was buying food for our 3 dogs, and I loved that I was able to browse through my options by Brand, Food Form (canned, dry, etc.), Lifestyle (puppy, adult, etc.) or Specialty (all natural, gluten free, etc.). All the foods had different bag size options, a description of the food and a list of the ingredients.
I didn't have any questions, but I noticed that I could call Mr. Chewy 24/7 or chat online with a customer service rep if I needed to. That's a great feature.
Once I placed my order, I received a confirmation email. My order shipped right away – I got an email telling me that it had shipped, along with a FedEx tracking number. And two days later, my order arrived right at my front door. I couldn't believe how quickly it got to me!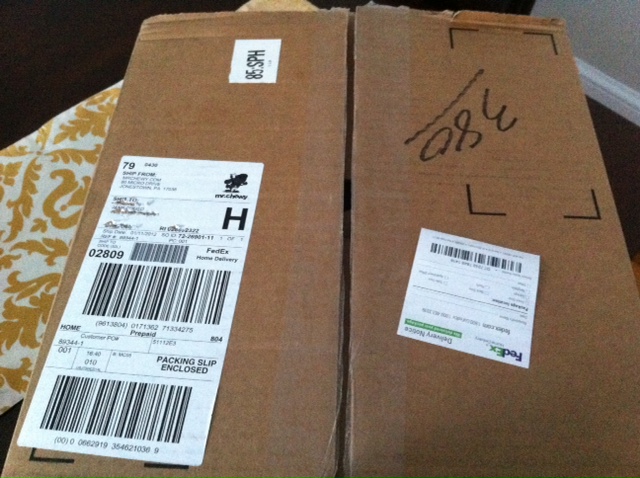 My experience ordering dog food on MrChewy.com was everything I could have asked for in an online shopping transaction and more. I will definitely be setting up a delivery schedule with Mr. Chewy so we won't run out of food again!
When Mr. Chewy says it is "Delivering Pet Happiness," it's true! It's clear that customer service is of the highest priority. After a quick, easy and enjoyable online shopping experience with them, I can honestly say that I am a happy Mr. Chewy customer!
Website: www.MrChewy.com
Like Mr. Chewy on Facebook
Follow Mr. Chewy on Twitter
—
Disclosure: I received a coupon to use on Mr. Chewy's website in exchange for an honest review of its services. All opinions are my own.
Review: Mr. Chewy Is a Convenient Way To Order Pet Food Online!
was last modified:
July 19th, 2017
by