Each New Year's Day, Barry and I prepare a Family Feast of Foods wrapped in legends, myths & cultures that welcome in the New Year with Health, Happiness, Fertility & Abundance…
There's Pork, Rice, Picked Herring, Lentil Soup, Cabbage, Black-eye Peas, Collard Greens, Kale, Cornbread, Donuts, Grapes, Clementines, Apples, Pomegranates, Unbroken Noodles…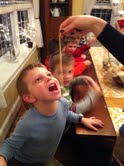 Then the Round Cupcakes, some with surprise coins for Good Luck (this Grandma makes sure everyone gets a coin-filled cupcake!)…
And PIG-SHAPED COOKIES!
Because PIGS walk forward, never backwards, PIGS have come to symbolize forward motion and great luck in the New Year.  So… Barry and I make PIG-SHAPED COOKIES each New Year's Day.
Over the years we've traced our own PIG cut-outs, we've whipped up our own cookie dough, we've had BIG PIGS, LITTLE PIGS, ALL KINDS OF PIGS.
Last year, I was rather smart and purchased PIG COOKIE CUTTERS.  Our PIGS were perfect PIGS.
This year, Barry and I decided to cut a corner (uh-oh) and we purchased rolled cookie dough, thinking we'd roll it and cut it and bake it into our PIG-SHAPED COOKIES…
(Disclaimer for Pillsbury:  The directions on the package are specific and easy and in no way indicate that this dough be used for cut-out cookies.)
This is where the AVERTED cookie disaster comes in.
Just before the dough was completely baked, I took it out of our oven and cut-out as many PIGS as I could rescue… then popped it back into the oven 'til our PIGGIES were done.
Phew.  Our grandchildren LOVE our New Year's Day Pig Cookies…
As we serve our LITTLE PIGGIES, I always explain the fun symbol of the PIG on New Year's Day.
But before I finish, the PIGGIES are devoured!
HAPPY NEW YEAR EVERYONE!  MAY YOURS BE FILLED WITH FORWARD MOTION & GREAT LUCK!
A New Year's Day Cookie Disaster Averted
was last modified:
January 2nd, 2012
by