Work, Life and Balance. Is there really such a thing?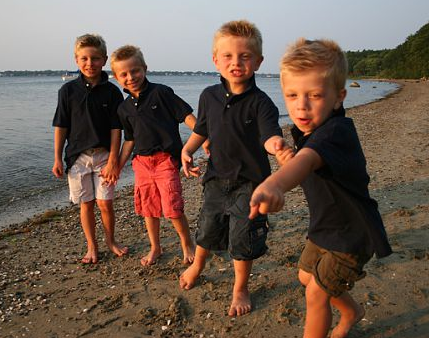 When I was a little girl, there were 2 things I really wanted to be. 1) A mother 2) Businesswoman.
I never really knew what "business" meant as a little girl, but I remember driving through downtown Providence and looking up at the buildings (which I thought were gigantic at the time) and thinking to myself, "Someday I'll have an office like that."
I also wanted to have 7 kids… 4 girls and 3 boys.
It's just amazing though, when you're a child… you're fearless. Anything can be done. Anything can be accomplished. Your dreams can always come true. It's an attitude I've tried to keep throughout my life and instill in my own sons. I've truly never believed in limitations… ever. I guess I've always kind of lived that way.
But there's one thing I haven't been able to get down yet… you know, the whole work/life/balance thing. Man it's a hard one.
I'm in NYC all day today… when I know I'm heading out, I always tell the boys. I never want them to wake up and go, "Dad, where's mom?" It pains me to see them get upset or cry if they know I won't be home for a day or two… but as much as it breaks my heart, I know I'm doing it for them. Them and them alone. But how can you explain that logic to a 3, 4, 6 and 7 year old? It's kind of impossible.
Last night as I was sleeping, I kept waking up to a face literally in my face. My Alexander. Honest to God, it kept scaring the crap out of me! LOL… I kept feeling breathing on my face, I'd open my eyes and there were 2 eyes staring right back at me. I jumped one of the times. But it was just my Alexander… he kept saying to me, "I just wanted to see if you'd left yet, Mom." And then he's give me a kiss and lay back down.
I'm trying my best to balance it all. I used to watch my own mother when I was a little girl balance work and 4 kids and swim team and the PTA and everything else life had to toss at her, and she did it seamlessly… but I know it couldn't have been easy. I don't think it is for any mother, regardless of their job, their circumstances or the ages of their kids. It's just a constant work in progress.
But ugh… the trying to balance it all drives me crazy!
As I sat down this morning on the train, I happened to sit next to a woman in her 70's. I logged onto my computer and she saw a photo of the boys… she smiled and asked me, "How old are they?"
I gave her the lowdown on their ages, names and the craziness of my life with 4 boys. She listened intently and then said to me, "You know, I have 4 sons, too." Ah-ha! A kindred spirit! I laughed and said, "I hear it's an exclusive club…"
She then asked me what I did for a living, and again… listened intently. She had never heard of a blogger before, so I explained it to her, bringing her though everything I do. She took it all in, and then she said something to me that was very touching and it was just what I needed to hear today.
"You know, your boys are proud of you now, but just wait to see how much more proud of you they will be. You watch. It's important for them to see their mother working hard. Your eyes light up when you talk about them, and they also light up when you talk about your work."
And you know what, she's right. Maybe that's my balance?
Thank you to this "stranger" today for listening. It was exactly what I needed to hear… and the kind of lady I absolutely needed to sit next to this morning.
If she reads this… here's a HUG to you!
Work, Life and Balance
was last modified:
November 21st, 2011
by