Baby Gear & Grandparents – What to buy?

When my daughter Audrey was born 33 1/2 years ago, a stroller was a stroller was a stroller…
Back then, we all bought basically the same thing and called "it" a Baby Carriage.  (You know the song… "First comes love, etc. etc. etc. and then comes baby in a Baby Carriage!")
I never dreamed of stylish, functional, fabulously fashionable baby gear like Quinny.
But then again, I never dreamed of Twitter Parties, either…
With Twitter Party Hosts like @VeraSweeney, @AudreyMcClellan, @WhitneyMWS & @classymommy #QuinnyUSA…
Where I'd spend a fabulous evening in NYC at the @QuinnyUSA Baby Gear Fashion Show with that same baby girl Audrey who I strolled around in that "Baby Carriage" so many years ago… at @CelsiusNYC overlooking @CitiPondNYC.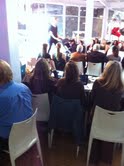 I got to meet the beautiful, gracious, super-smart @RosiePope…
And I picked up, pushed around and played with all the Quinny Gear.
So… Baby Gear & Grandparents – What to Buy?
With 4 kids and 9 grandkids, I've pushed my share of "Baby Carriages" and Strollers and carried my share of car seats and baby carriers.  I've struggled and maneuvered and maneuvered and struggled on city streets, residential roads, at carnivals and parades, in kid parks and malls.
But I've never felt such ease and I'll just say it… happiness at the wonderful functionality of the Quinny Baby Gear.  Never mind the fabulous fashion. I LOVE QUINNY…
THIS Grandma knows what to buy, not only for her grandkids, but for HERSELF!
"My, how things have changed!" for the incredible!

Quinny USA Baby Gear and "My, how things have changed!"
was last modified:
July 20th, 2017
by