This afternoon, my 10-year old granddaughter Taylor had her hair pulled up really high on her head and tied with a elastic band.
I remarked that she looked like a genie, and told her about actress Barbara Eden and the 1960's television sitcom I Dream of Jeannie.  Taylor was intrigued, so we googled Barbara Eden (she's on Facebook, too!)… which led to this beautiful headdress on my beautiful girl…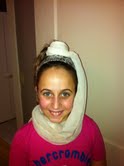 But ya know what's just as fun as a Granddaughter genie?
Being asked by the same Granddaughter genie if I've ever played Lacrosse.  The answer was "NO"… I actually have never even picked up a Lacrosse stick.
And heading outside to learn a few Lacrosse tips from my beautiful Granddaughter genie, even though I was wearing high-heeled boots…
When I think back to all of the those I Dream of Jeannie episodes I watched and loved all of those decades ago, I could never have begun to dream of a more magical afternoon.
That's the thing about grandchildren … every single moment is surprise and magic and wishes-come-true.
This afternoon, there just happened to be a beautiful Granddaughter genie blinking up the magic!
My Dream of a Grandaughter Genie (and a little Lacrosse!)
was last modified:
November 14th, 2011
by