During the month of November, I will be sharing KNOW-VEMBER: FUN NOVEMBER FACTS from all around the world.
Take a few moments from each November day and share the KNOW-VEMBER fun, knowledge, discovery and smiles with your kids and grandkids.
*************************************************************************
Day 326 of 365 Days of Literacy for Kids:  Fun, Easy & Do-able Daily Activities for Kids
On Nov. 22, 1497, Portugal's Vasco da Gama became the first navigator to sail around the Cape of Good Hope in his search for a sea route to India…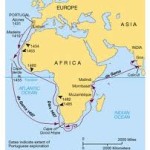 Vasco da Gama's successful voyage opened profitable trade routes from Europe to India, particularly for spices, that changed the course of history.
Take a peek at the history of ships and navigation to give your kids and grandkids an idea of what explorers like Vasco da Gama faced when setting out on a journey. As this website explains:  Getting there involved danger, technical skill, patience and courage. We may well look back on these men and their exploits now and consider them romantic. However, being stuck on a leaky, wooden boat for months (sometimes years) on end, on a diet at times, of only dry beef and biscuits wouldn't be much fun. You might have to drink putrid water and sleep with filthy companions in over-crowded between-decks accommodation which you shared with everybody else, well – that's not anybody's idea of a good time.
Decide for yourselves whether this kind of exploration was a good time!
Join me here each day in November for KNOW-VEMBER: NOVEMBER FUN FACTS – on 365 DAYS OF LITERACY FOR KIDS! – fun, easy and completely do-able!
KNOW-VEMBER: Fun November Facts – "11/22/1497 – Vasco de Gama sails around the Cape of Good Hope"
was last modified:
July 20th, 2017
by