There's a little verse by Robert Louis Stevenson that goes something like this…
The world is so full of a number of things,
I'm sure we should all be as happy as kings.
I grew up in a simpler time.  I know.  I know.  You've all heard this from your parents & grandparents…
But it's true.
When we grandparents were kids (yes, I'm going there), our world was all about exploration, discovery, adventure… mostly in our own back yards and in our imaginations.
And I think if I can fill my grandchildren with some of those things the world has to offer in that completely old-fashioned way, they will learn to be happy as kings, so to speak, too.
So how-to have grandchildren fun without spending a dime?
Take a WALK!
Literally.
There's never in the whole history of the world been a WALK without discovery…
Because you never know what's waiting for you…
And you may wish to sit down on the nearest curb or patch of grass and draw a mustache on the back of a little finger.  Just for fun…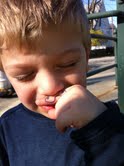 Or all-of-a-sudden see the HUGEST, most EXTRAORDINARY river of water come cascading down the street, almost soaking little sneakers and Crocs.
And run up the street to see where all the water is coming from on this beautiful sunny day…
Sit, in awe, from across the street as "the water man" calls over the glorious sounds of the rushing water, "My 2 boys used to love it when we drained the hydrants!  Now my boys are 18 and 21!"
Make boats from leaves and sticks and send them on their journeys to other lands…
And follow the boats along the unexpected river all the way around the corner and down the giant hill…
Learn all about waterfalls and dams and hills and rivers and boats without Grandma explaining one single thing.
Or spending one single dime.
Begin the journey-WALK back to Grandma's house, filled with king-sized happiness…
With 3 new friends…
Oh, yes.  The world is so full of a number of things!
How-to Have Grandchildren Fun Without Spending a Dime
was last modified:
November 10th, 2011
by