When I was a little girl, my Dad was in the Navy and often he was gone "out to sea" for months and months at a time…
My Mom "watched the fort" while my Dad was away.  As I look back now, I am in awe of my Mom and all the things she did with and for my two brothers and me while my Dad was away.  We lived in California, and my Mom was far, far away from her entire family back in Boston.
My Dad sent letters… and love letters to my Mom.  I still have one love letter.  It makes me smile and cry every time I take it from its safe place and read it.
But one day, something else arrived from my Dad.  Crates and crates of something else.  Wooden crates with slats that we could see through… but the contents were wrapped in crate-wrapping stuff.
I was in awe of those crates and in awe of my Mom busting into them.  Soon, we would see dishes and cups and saucers and soup bowls… all wrapped so carefully.  From my Dad.  From Japan, where he was stationed at the time.
My Mom has told me since that she always wanted a set of good dishes… China, so to speak.  My Dad knew this and surprised her with this gift and this pattern that he chose especially for her.  I thought it funny that China came from Japan, but that wouldn't get in the way of me falling in love with the China my Dad sent to my Mom from all the way across the world.
When I say that I fell instantly in love with that China, I'm not exaggerating.  I loved its pure whiteness with the 4 silver that-turn-to-gold-in-the-right-light STAR-BURSTS.  I imagined my Dad picking out this STAR pattern and seeing the same stars in the Japan sky that we saw back in California… just like in the China pattern…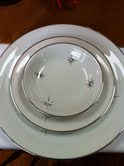 (This may seem almost tacky… or really tacky… but I used to tell my Mom and Dad that the China should be mine some day because I was the only daughter and all.  When I was older, I begged them to put the China in their will.  Oh, my.  THEY DID!  It wasn't the worth of these dishes… because they are not monetarily valuable.  It's the MEMORIES that are priceless.)
My Mom and Dad used the China for very special dinners and occasions, but always kept the entire service for 12 in a China cabinet.  My Dad built a China cabinet in one home just for the China.  I remember taking out the pieces, one at a time, and washing it… gently… for those special occasions.
One special occasion was Thanksgiving.
When my family moved back to New England, we always headed to my Nana's house in Boston on Thanksgiving Day, but we had our own family turkey dinner the same weekend, at home, with the China.
That China traveled from California to our home in Rhode Island to my Mom's condo to 3 apartments… until my Mom settled into an independent senior apartment where there was no room for her China.
In 2004, my Mom gave her China to me.  I know it was 2004 because I just unwrapped the set this morning and the date on the newspaper is February 18, 2004…
Barry and I normally kick-off Thanksgiving Day with our gigantic set of Christmas dishes, but this year I wish to honor my Mom & Dad with their STAR-BURST China that has come from so far away and through all this time…
… still the most special set of dishes ever.  To me.
I can't wait to see my Mom's face when she sees her China tomorrow as the centerpiece our Thanksgiving feast.
And from this year on, I will use "the China" on Thanksgiving Day… beginning anew a tradition from so long, long ago.
I'm sure my Dad will be smiling his glorious smile from Heaven at those silver that-turn-to-gold-in-the-right-light STAR-BURSTS that have always meant so much to my Mom and to me…
A Thanksgiving Tradition in "the China"
was last modified:
November 24th, 2011
by