Day 296 of 365 Days of Literacy for Kids!
Obsolete words are no longer in general use and may have fallen out of favor for nearly a century or more, but who says obsolete and rarely used words can't be revived by kids who love words?
Today's word is PAVID, meaning fearful or timid.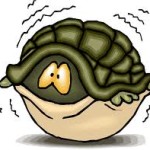 The word pavid is derived the Latin pavid-us, meaning to quake with fear, and is traced back to the early 17th century. 

Kids will love the word pavid because most have felt pavid at some time or another, or seen the same in a friend, classmate, sibling or adult.  Putting a new word to an uncomfortable feeling may take the edge off a bit. 
Use pavid with your kids and grandkids today to explain the feeling… but hope they don't feel pavid.
Join me each day here for OCTOBER OBSOLETE – 365 DAYS OF LITERACY FOR KIDS! – fun, easy and completely do-able!
OCTOBER OBSOLETE: Reviving words that kids will love… like PAVID
was last modified:
October 24th, 2011
by