Fashion Deal of the Day: BEARPAW Boots at Marshalls for 50% OFF
Henry and I went on a little shopping trip yesterday looking for a belt for me. Poor little kid had know idea what he was in for… I had him in store after store after store in the POURING rain. He was a good sport.
I did find the belt.
But… I also found something just as amazing!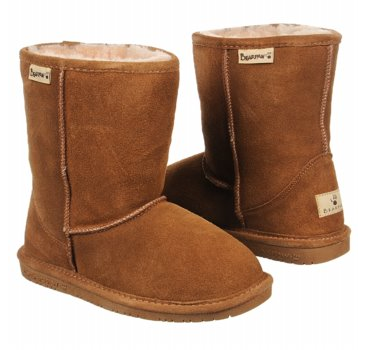 BEARPAW Boots at Marshall's for $24.99.
I have been searching high and low for a pair of BEARPAW Boots for Henry for the winter. I didn't want to spend $60 on boots for him because I know come next year, his feet will be too big and there won't be a little brother to pass them along to… so I've been holding off.
When we walked into Marshall's I happened to scan the shoes and saw that they had a pair of tan boots. I couldn't tell if they were UGGs or what… so I walked over with Henry, saw they were BEARPAW Boots and grabbed them! I scoured the store to see if they had a size 12 for Benjamin (no luck), but I did call a couple of other locations and everyone seemed to have an array of sizes in them.
So if you're looking for some fabulous boots – BEARPAW Boots at Marshall's! You don't want to miss this price!
Fashion Deal of the Day: BEARPAW Boots at Marshalls for 50% OFF
was last modified:
October 30th, 2011
by