What does Pop-up do early Sunday morning when asked to "baby-sit" for an hour or so for 4 grandsons… ages 3, 4, 5 & 6… who happen to be brothers?
Why, Sunday Morning Football (with some in jammies), of course!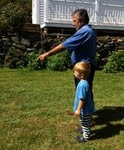 … and yes, WATER BREAKS for everyone!
Maybe this Sunday Morning "Jammies" Football will catch on.
Sunday Morning Football (with some in jammies)
was last modified:
September 12th, 2011
by