Does it amaze you that kids find the most joy and happiness in both the B-I-G things and the little things?
Take this past Sunday, for instance.
Audrey and Matt's 4 boys were registered to run in the Kids' Races of the CVS/Caremark Downtown Providence 5K.  Barry and I showed up very early to watch the boys get ready to run…
There were numbers to pin on.  Sneakers to tie.  Hands to hold.  Places to BE for each boy's race, designated by age or school grade.
Tens of thousands of people participate in the CVS Races each year or show up to watch, so the air is electric with excitement.  The boys could feel the energy and the energy could feel the boys!
The boys were AWESOME…
And William even won First Place in the First Grade Boys Division…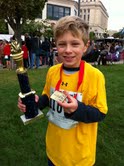 But the joy didn't stop there.  Oh, no.  There were worms to find…
Sticks to collect…
Rocks to gather…
All kinds of things to talk about as we meandered back to our cars…
(Oh,  how I love to meander with kids… )
And, of course, a Champion Breakfast at Denny's to fill the bellies of those incredible running, worm-finding, stick-collecting, rock-gathering, meandering boys…
Celebrating LIFE itself with pats of butter, pancakes, "Pops", parents, PEOPLE WE LOVE… in both the B-I-G ways and the little ways… !
Champion Breakfast at Denny's after the CVS 5K Kids' Races
was last modified:
July 20th, 2017
by