What I mean is that a SPILL of any kind holds golden nuggets of fun for kids… if we let them.
Take my little geranium pot SPILL, for example…
I guess it's my fault that I stick things into my garden pots.  Things like copper dancing fairies, Christmas ornaments, stone bunnies… and, of course, a dazzlingly sparkly magic wand to catch the afternoon sun.
And what do kids want to touch and pull out to feel the magic?
A dazzlingly sparkly magic wand.
And so it was with my little pot of geraniums on the step of my side porch…
But to boys, the magic wand is a light saber… one that is pulled out with the force of Luke Skywalker himself.  And when that happens, spills happen…
My first thoughts were oh no now I have to clean this mess because it's right at the door and there'll be dirt all over the kitchen and mud if it rains and why oh why does the magic wand have to be a light saber and do I even have a dust pan and brush?
My second thought was, "Hey, guys.  Wanna help Grandma clean this spill?"
I went with option #2. 'Cuz I'm a Grandma.
You would have thought I had asked them to hop a plane to Disney World.
YES!YES!YES!YES! they danced.
And oh how happy I am to have Grandma'd into option #2…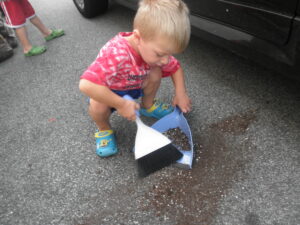 Yep.  There's GOLD IN THEM THAR SPILLS.
We just need to SEE the sparkle…
There's gold in them thar SPILLS…
was last modified:
August 26th, 2011
by