Yesterday I spent the afternoon with my boys and husband at the Style School Event in NYC… we woke up extra, extra early (ahem… 5AM) to head into the City together. I got the boys all "handsome" and ready to go and everyone was super excited for a day in the best City in the world!
William and Alexander were both born in NYC, so whenever we head into the City, they make it a point to call it "their City."
Style School was FILLED to the brim with things for me and the boys to do!
I (personally) kicked off the day with a little pampering for myself with my FAVE Remington!  They have an incredible (I mean, INCREDIBLE) Wrap to Waves Hair Tool that I had worked through my hair, and I loved the look of it! I had mass waves that were so much fun to sport for the day!
And then after my hair was done… on to get the boys "styled!"  77Kids had an amazingly cool punk rock hair station where the kids could get their hair "highlighted" with some crazy-cool colors!  William, Alex and Ben all JUMPED at the chance!
First up was Alex!
Next up was Ben!
And then William!
After the hair was primped and perfect, everyone headed over to the Children's Advil booth where they had a very cool photo booth for the kids (and adults!) to have some fun in! The kids had a blast taking photos while the moms and dads got to check out their products. I had know idea Advil had a Children's tablet for 6-11 year old's that they can swallow! Perfect to know for my William.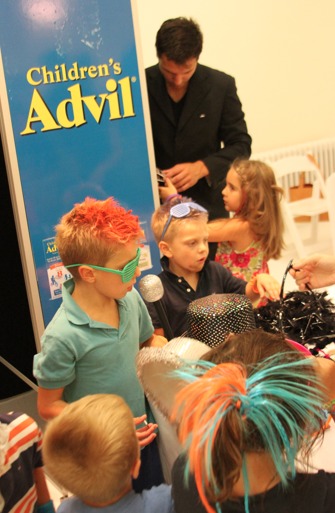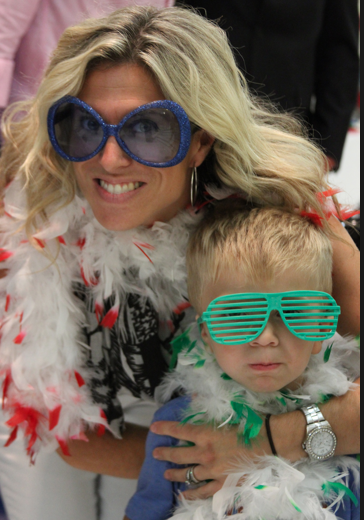 After rocking it out… we headed over to Zulily's booth to participate in their Clothing Swap. We bought a gigantic bag of clothes with us to the event to "swap" for other clothes that other bloggers brought. I thought it was such a great idea! What a wonderful way to "recycle" clothing!
When the boys were ready for a drink, it was fabulous to have Mott's there! Mott's had Apple Juice available for the kids, as well as Mott's snacks. What I loved was being able to get some fabulous healthy snack tips for the boys. With school beginning next week, I would love to know some secret ways to get some nutrition into their lunches — especially for snack time! Mott's has healthy snacks that make me feel good about giving my guys! So as the boys refreshed up, they also decorated their very own bags!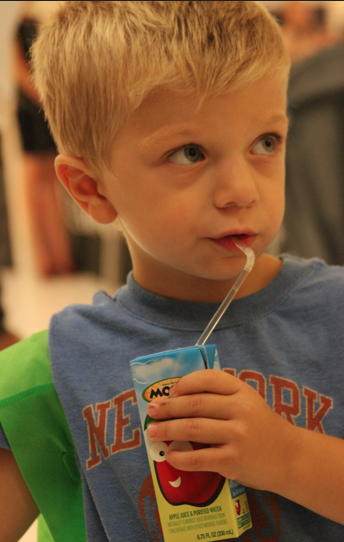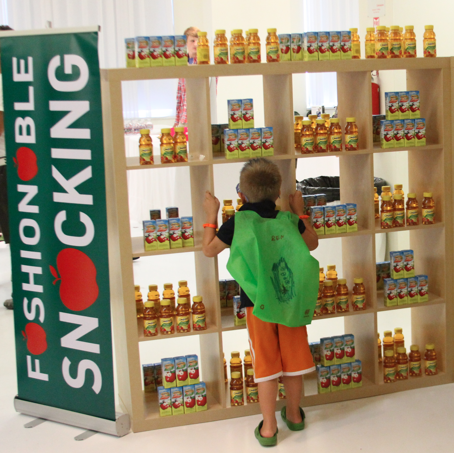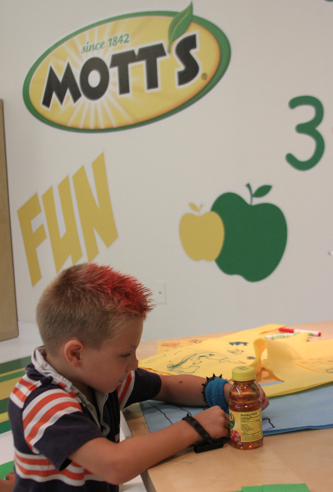 As I was able to finally walk the room and chat and laugh and catch up with some friends and the brands, my kids were slowly tiring out! They sat down with some Play-Doh and (literally) hung out for 45 minutes!
Style School was filled with fun for EVERYONE! Cameron Hughes had wine for the moms. Lands' End featured their 2011 bags! Mom Agenda was showing off their fabulous new items to organize your life! It was just a rockingly cool day for me and the boys (husband included!).
As everyone was packing up and heading out, all the kids (well, the boys!) had some fun rolling the 77Kids coins!
Style School Event in NYC
was last modified:
August 22nd, 2011
by