I knew the time would come…
"Mom? Where did you meet Dad?"
I've been waiting for this question since 1998, you know… when I daydreamed me and my daughter chatting on her bed one night when she was heartbroken over a boy, and I could tell her… "Don't worry, I promise, one day you'll meet your prince. Let me tell you how I met your father…"
Funny, I never envisioned the question coming out of the mouth of a little boy, never mind little boys (plural).  Goes to show you, life is always full of surprises, much like how I met their father, my Matt.
I met Matt (originally) at a party during our time at Brown University, the street that the party was on was called – Williams Street. When we showed our own little William this very street sign this past weekend, he asked a very logical question, "Was that why you named me William?"  It wasn't, but believe me… I've always thought it was a beautiful little coincidence.
This question led to the one… "But where did you meet Dad?"
And so, even though we met quickly at a party one night in April of 1997 (we were both kind of seeing people at that time), it wasn't until October 28, 1998 when we really met.  It was a beautiful fall morning in Rhode Island.  I know this sounds silly, but in all honesty, I felt that very morning (as I was getting ready to head out to grab a coffee at 8AM) that something magical was about to happen. It was a feeling I had from my head to my toes. So much so that I even dressed up that morning for class… no sweats, no sneakers, no hat hiding my hair. I wore (yes, I still remember) a cream turtleneck, dark blue jeans and my brown leather boots… and oh, yes – hair and makeup were done. I walked to the main green and grabbed a cup of coffee that morning at the Blue Room and then headed out to the Blue Room steps to enjoy it.
That was it.  I just wasn't sure that lightening was about to strike… in a good way.
Within seconds of sitting down on the steps, the bell rang for the morning classes to be dismissed, and out of Manning Chapel (on the main green) came walking Matthew McClelland.  It was like time stopped. No joke. As if we were being directed in a movie, Matt looked up and locked eyes with me. And then he did something that kind of changed the course of my life, he smiled and waved… and then, (OH MY GOD) walked over to me.
It was that very spot on the Blue Room steps that will always be the most special of spots for me. It was where my life changed forever.
The story goes like this… Matty came over and we talked for about 30 minutes. We went out that night on our first date (we saw the movie Practical Magic) and the rest (as they say) is HISTORY!
But what was really cool was showing the boys the Blue Room steps. Who would have thought 13 years ago that someday we'd be there with our 4 sons! We've chronicled our life with the Blue Room steps. When we both graduated from Brown we took photos there together. When we got engaged we went back. We got married right near Brown and had our wedding photos taken there. I've been there pregnant with each of the boys. And now we have a family photo. Very special moment for me…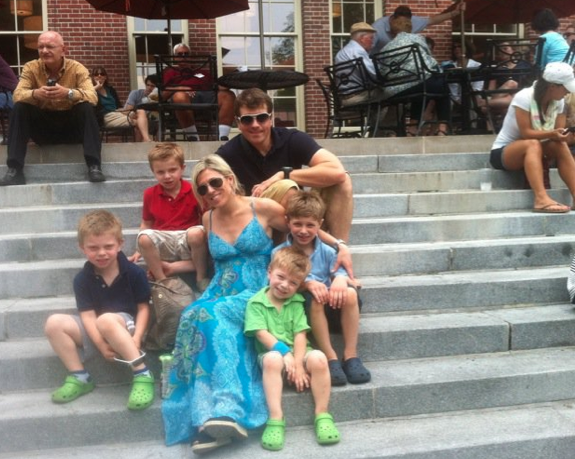 "Where did you meet Dad?"
was last modified:
June 2nd, 2011
by