I'm not a flamboyant person.  Never have been.
But the older I get, the more bold I'm willing to go… both decoratively and (I would discover) in personal style.
Take my choice in art as of late (translation: since menopause).
I now find the human body more celebratory and, actually, more fun.
My husband and I found an incredibly interesting and entertaining artist, William Cantwell, at the Scituate Art Festival a few years ago, an artist who celebrates the human form.  We bought a few prints, framed them ourselves and hung them in our lavette.  These prints are the talk of any guest who enters… and a constant form of entertainment for our 9 grandchildren.
And to give equal exposure to the men…
I love it.
We also found another artist, Greg Stones, also at the Scituate Art Festival… an artist who certainly has fun with art.  We picked up a couple of his pieces and each time I see them, I enjoy them more.  This one is wonderfully quirky and called Penguins, Flasher, Bigfoot…
Yep, here's a close-up of our "Flasher" who continues the nude theme…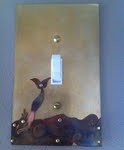 Again, endless entertainment for guests, grandchildren and ourselves.  The discussions I find myself having with my grandchildren about these artistic expressions are truly priceless.
And lest me forget the piece entitled "Tuscany" by Tony Palladino… a magnificent Artist's Proof of a wine label.  Barry and I fell in love with the calm purity of this lovely lady with her grapes.  We have this print hanging in our wet bar, adjacent to our family room.  Our Tuscany lady, and her grapes, get lots of well-deserved attention…
Ah.  The female form.
In fact, just this past weekend, 4 of my grandsons were being Christened and my cousin Debbie came to stay with Barry and me and to attend the service and festivities.  Debbie mentioned to me that Barry and I have lots of nude artwork in our home.
Yep. That we do.
"How about it with the grandchildren?" she laughed.
"It certainly gives us stuff to talk about," I answered.  "And anyway, there's something about menopause in all of this freedom," I added.
And it was Debbie, too, who looked at my jacket as 25 family members sat down to a celebratory Christening dinner at West Valley Inn… and mentioned, "Did you know that your jacket has nude ladies on it?"
I looked.  I laughed.
No, I didn't know this.  Until then.
Debbie and I laughed like school girls at the nude ladies on my Versace jacket that I had gotten years ago and never worn until that day… the jacket I had worn in the church, to my grandsons' Christening, on the altar and in Christening photographs with my grandchildren and my entire family. Ha!
Here I am with my daughter Audrey, her husband Matt, their 4 Christened boys and my husband Barry.  Do I look like I wear nudes?
Well, I guess I do.
There is something about menopause that has made me nude immune…
I must say, I love it!
Art.  Clothing. Life.
Quirky.  Hilarious.  Eclectic.  Creative.  Fun.  Beautiful.  Interesting.  Free.
Just like a woman who's been through it all and ended up in menopause.
There's something about menopause…
was last modified:
June 15th, 2011
by