Let's have a little fun, a little learning and a little YIKES! today with the ICHNEUMON WASP: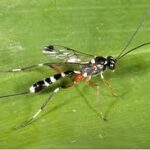 The word Ichneumon derives from the Latin and Greek words meaning to track or to trace out.  In the case of the Ichneumon Wasp, the tracking or tracing out part refers to where the female Ichneumon Wasp decides to lay her eggs.
The Ichneumon Wasp is parasitic, and its larvae feeds on, or inside, another insect until it dies.  (I will save the YIKES! until I give you an example.)
Most female Ichneumon Wasps have very long, thin ovipositors for laying eggs.  The ovipositor is an organ used by the wasp to prepare a place for its eggs and to place its eggs where desired.  In lots of cases, the Ichneumon Wasp chooses another creature, such as a caterpillar, to host its eggs.  The eggs are deposited very near, or inside, the unsuspecting host.  As the Ichneumon larvae develop, they feed on the vital organs of the host until it dies… and then eat their way out through the skin. Now that's a YIKES!
The female Ichneumon Wasp is also known to use spiders, beetles, cutworms and flies as hosts to its eggs… and even members of its own species.  DOUBLE YIKES!
The Ichneumon Wasp's ovipositor, projecting from the abdomen end of the female, is its most distinguishing characteristic.  Its wings are transparent and colors can range from dark brown to reddish/yellow brown to striped.  Its antennae are thread-like and long.
Share these interesting Ichneumom Wasp tidbits with your kids and grandkids.  Remember that kids really love the YIKES! factors and give them something to talk about.
If you encounter the Ichneumon Wasp first-hand, it is generally not considered harmful to human beings, but it does give a good sting if threatened.  One good way to observe the parasitic affects of the Ichneumon Wasp is to look for caterpillar cocoon remains. Small, hard, oval pupal cases inside are a dead give-away that an Ichneumon Wasp used this creature as a host.
Join me here each day in June for JUNE BUGS on 365 Days of Literacy for Kids! A little fun, a little learning and a little YIKES! go a long way toward Literacy!
JUNE BUGS: The Ichneumon Wasp on Day 160 of 365 Days of Literacy for Kids!
was last modified:
June 9th, 2011
by