Today, my beautiful grandson HENRY turns 3 years old.
Where has the time gone?
Wasn't he just born yesterday…
Henry… the youngest of 4 brothers… brothers who adore him, dote on him, love him to the end of the world and back again…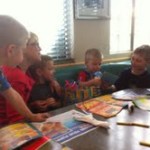 Henry… who begins sentences with, "Actually, Grandma…"
Henry… who gives gentle baby kisses that melt my heart…
Henry… who loves his Crocs and big boy underwear!
Henry… who loves baby tomatoes and black olives and Rainbow Fish Crackers and Wheat Thins and chicken and Pop-up's pancakes.
Henry… who turns 3 today and I cannot even begin to imagine life without this biggest surprise the world has even known!
Henry… who loves Woody…
And today, on his 3rd birthday, IS Sheriff Woody!
Oh, how I love you, my beautiful little guy!
HAPPY, HAPPY, HAPPY BIRTHDAY TO THE SKY AND BEYOND!
I LOVE YOU, HENRY… FOREVER & EVER!!!
Henry turns 3!
was last modified:
June 17th, 2011
by