When this Grandma talks about a Hoedown, she brings a shovel!
After my recent incredible Flower Haul at Lowe's, the flowers were begging to dance in my soil… and Audrey's 4 boys were more than happy to oblige with help.
(Boys. Dirt. Digging. Oh, de-doo-dah-day!)
There's nothing quite like a summer day, a Grand Square (William, Alexander, Benjamin & Henry) of enthusiastic helpers, a trunkload of flowers and a job well done…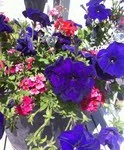 And a little surprise for Pop-up on the front stoop…
So OK.  I know most Hoedowns don't end like this…
But this Grandma's do!
Grandma's Hoedown… (and I'm not talking the dance!)
was last modified:
July 20th, 2017
by