I can still tell you every detail of my First Leaps of Summer from when I was a kid… first leaps off a diving board into a pool or off a float in a lake or into a wave in the ocean.
I loved summer as a kid.
I loved summer when my kids were kids.
And I love summer now.  I may love summer even more now because I get to see and feel the excitement, the anticipation and sometimes even the momentary fear in my grandchildren as they make those great leaps themselves… Rites of Passage into both summer and another milestone in their little lives.
Yesterday, it was both 5-year old Alex's and 4-year old Ben's turn…
There's that moment of never turning back that makes my heart soar… watching, as if I'm doing it myself!
Now it's Ben's turn…
A bit more trepidation… THEN!
And the smile of great, great, great big accomplishment…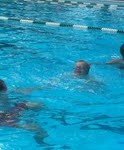 I remember these moments in myself…
I remember these moments in my kids…
I could sing and dance and jump for joy for it all.
But to see and feel these moments in my grandchildren?
It's almost beyond description.
First Leaps of Summer… from a Grandma's perspective!
was last modified:
June 28th, 2011
by