Barry is one of those guys who's both easy and tough to buy a gift for.
On one hand, he never wants anything, yet he loves anything anyone picks out for him.
On the other hand, he knows what he wants and loves what he loves… in clothing, athletic apparel, golf stuff, books, etc.
So, on this birthday of his, I came up with something that I thought he would love on one hand… literally!
The story of this little gift goes back decades… back to when Barry and I chose our Wedding Bands.  We met in July of 1975 and were getting married in August of 1976.  We had decided that matching sterling silver Wedding Bands would be perfect for us.  We found a Silversmith in Newport, Rhode Island who created and crafted our two very simple bands… his $36.00 and mine $32.00.  There was no diamond.
We exchanged our Wedding Bands and our Wedding Vows on our wedding day…
I took off my Wedding Band only to have our babies (delivery room rules!).  Barry took his off only when it wore down to a mere sliver and a split… just about 3 months ago.
Barry looked so different without his Wedding Band, and he didn't like the feel of nothing on his ring finger.  I had decided that during our trip to New Orleans, I would buy him a new sterling silver Wedding Band.  A simple one to replace the first one.
That would not happen.  There was not one Silversmith in the entire city who created Wedding Bands.
A couple of days after we returned home, I was having lunch with Jane in Warren, Rhode Island.  Warren is the little town where Barry and I had our wedding reception, at the Wharf Tavern… a small, happy, fabulously fun time at a delightful waterfront restaurant…
As Jane and I were heading to my car, I spotted a sign across the street.  It took me my total surprise and I stopped to take a good look.  This is what I saw…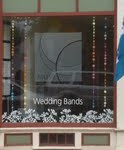 The words Wedding Bands captured me.
I quickly told Jane of my wish to replace "Dad's" Wedding Band.
The rest is history repeating itself.
The lovely little store is named MUSE.  The lovely salesperson listened to my story of our sterling silver Wedding Bands from so long ago.  She compared mine against a few sample Wedding Bands… and we found the perfect match.
I "commissioned" a Silversmith in Providence through MUSE to create and craft a sterling silver Wedding Band for Barry.
I couldn't keep this great secret a secret… and last Saturday, when I got the call that the Wedding Band was ready, we headed to Warren, to MUSE, to put back a piece of our history – a sterling silver Wedding Band for Barry…
The same lovely salesperson took a photograph… and Barry and I both felt as one again.
I think the Birthday Wedding Band is one of the most special gifts I've ever given to Barry.
Today, I wish my beautiful husband Barry the most Happy, Happy Birthday ever.
I love you forever and ever and ever, Honey… and in eternity, I'll love you there again! xoxox!
You are my MUSE!

A Birthday Wedding Band for Barry
was last modified:
July 20th, 2017
by