My husband Barry and I live in a big City and a small Town.
How can this be?
Well, we live just about right on the division line… literally, on Division Street, between the two worlds.
We follow our big City politics.  We vote on our big City issues.  But we enjoy our across-the-street small Town neighbor's lovely harbor, coffee shops & restaurants and boutique shops.  We love our morning runs and bike rides and evening strolls… each New England season bringing something colorfully wonderful and welcoming to the historic little Town.
But I think my favorite small town neighbor's event is its annual Memorial Day Parade.  Barry and I gather as many of our kids and grandkids and granddogs as are around on this May morning and walk less than a block to to Town Hall… and watch the Parade with reverence, honor, fun and excitement.
It's not a big parade.  It's not a long parade.  But it's a wonderful parade.
My Dad was a Navy Veteran and parades are what I remember from my own childhood.  My Dad loved parades… the colors, the American flags unfurled, the bands, the happiness, the patriotism.  I still remember sitting on my Dad's shoulders to get a better look at everything marching on by.  I can't count the numbers of parades I've seen, from California to New England and in-between.  I can't tell you how many times tears have popped into my eyes at the first note of the first marching band as it comes into view.
But I can tell you how parades keep my Dad's memory and service so very close to me, and I can tell you how important it is for me to have my grandchildren know this warmth in their own hearts.
Ah… the anticipation!
Oh, yes.
My grandsons feeling the reverence of the moments… my heart melting and soaring as I watch them salute our servicemen.  Each of them has great-grandfathers and grandfathers and a Godfather who served our country and this honor is deep inside them…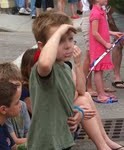 And the Seabee, high school marching band, Scout troop, baseball teams…
Then we all headed back to Grandma and Pop-up's house as the Kentish Guards marched right up the Division Street hill… and if it weren't for the automobiles, it could have been 1774, just as it's written on the drum.
As I stood on my very own front porch of my very own 1780 home on the big City side of Division Street, I felt blessed that I live in my home, in my City/Town, in my Country… surrounded with my beautiful family and my grandchildren who know the significance of it all through a small town Memorial Day Parade.
And I looked to the sky to thank my Dad and all the service men and women who have made the ultimate sacrifice for these extraordinary blessings…
Grandchildren and a Small Town Parade
was last modified:
May 31st, 2011
by