When I woke up 33 years ago today, I knew that I was going to have a baby that day.
I had gone into early labor the morning before… 6 weeks before my due date.  Fortunately, my husband Barry and I taught at the same school where the early labor began (while teaching a class, no less!), so off we rushed to the hospital. Yes, I was in labor.  I was having steady contractions.  But no-one could predict when our baby would arrive.
The morning turned to afternoon, then to evening, then to late evening.  Obstetricians had changed shifts.  I had been poked and measured and discussed before the general consensus was that I would be further induced in the morning… on Tuesday, May 23rd.
Barry was sent home.  I stayed.  I walked.  I looked toward the heavens… the sky, the moon.  I worried.  I prayed. We had been told that our baby would most likely be tiny and may need critical care.  I prayed some more and desperately wanted the morning to come…
And it did.  It was a beautiful, warm, glorious May 23rd.  I felt happy at the beauty of the day and knew it was a sign from heaven and all my angels.  Barry was there at the crack of dawn.  The inducement began.
We didn't know if our baby was a girl or a boy.  We did know that this baby was joining 2 older brothers… but that was all we knew.  Then morning turned to afternoon, then to late afternoon, then to almost evening.  At 5:00 pm, we were told that a C-section was necessary.  I have never seen people moving so fast.  I was in a blur of action and lights and nurses and doctors and sounds and machines.
Barry asked if he could accompany me, and miraculously, our obstetrician said yes.  He held my hand as all the preparations took place… and then at 5:53 pm, I saw Barry's eyes as our baby was born.  I will never forget the wonder in his eyes.  Then the news… IT'S A GIRL.
I caught a glimpse of our baby girl as she was whisked away… and I wouldn't see her again until early the next morning.  I did wake up in the recovery room to a pediatrician leaning over my bed.  He was smiling.  He told me that our baby girl was perfect… just tiny.  4 pounds, 9 ounces tiny.  She was in an incubator in the critical care unit, but she was perfect.  He held my hand and told me not to worry… and asked me her name so the nurses could write it in giant letters across her incubator.
Ah… Barry had wanted the name AUDREY for a girl from the very beginning.  I had almost caved with the naysayers who told me a girl would hate the name Audrey.  I thought of Barry with me, holding my hands and wiping my face and hugging me and loving me while waiting for our baby… and I looked up at the pediatrician and said AUDREY.
AUDREY.  It was the most perfect name.
And I remember thinking how very blessed we were.
But how could I have really known how blessed we were that our baby girl AUDREY was tiny, but perfect.  How could I have known what was to come?
How could I have known the most beautiful bond that Audrey would share with her Daddy…
How could I have known that Audrey would be the best little sister… and that she would become the best big sister, too…
How could I have known that even Audrey's "awkward" stage would be beautiful!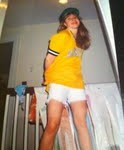 How could I have known the extraordinary love and care that Audrey would have for NanaFlo and PapaJoe…
And GrandmaRita… and that her grandmothers would be there, so proudly, to share the wonderful day that Audrey graduated from Brown University…
Or that swimming would become such a part of Audrey's life, bringing her to Junior Nationals… and that her little boys would love swimming, too…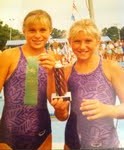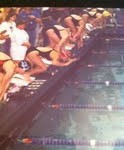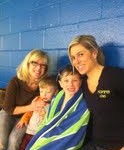 How could I have known that Audrey would be such a romantic, always believing in happily-ever-afters… yes!
Or that Audrey would really, really, really Heart NY?
How could I have known on the day my baby girl was born that she would become the Mommy of 4 beautiful little boys some day…
How could I have known that our beautiful, tiny little Audrey who loved her name from the very beginning would become an extraordinary woman… her life filled with love, fun, adventure, laughter, knowledge and dreams-come-true.
But you know what?  I knew all of this in my heart and soul.  I knew it all along.
When I woke up 33 years ago today, I knew that I was going to have a baby that day.  That "baby" is our beautiful daughter, AUDREY…
Today, I wish my beautiful daughter AUDREY the most special birthday ever… filled with all the joy, love and kindness that you give so generously every single day.  Thank you for coming to Daddy and me.  Thank you for making me your Mom!
I love you more than you could ever imagine!  xoxox!
33 Years Ago, Today!
was last modified:
May 23rd, 2011
by