It's absolutely that time of year!
Spring time! It's warm! It's beautiful!
So you need to be fashionably ready for it…
I love to mix some classic items with some trendy pieces.  It's so important to make sure you have both stocked well in your closet. You can absolutely work with what you have, and then add in key pieces as you see fit.
I do this every season. I keep my "classics" together and I keep my "trendy" seasonal items together.
Every woman should have their closet stocked with certain items.  I wanted to start off with 5 CLASSIC items you should absolutely (positively) have stocked in your closet, each season!  These are what I like to call, extremely versatile items.
5 Classics…
1. Little White Dress – Any style that you feel the most comfortable in. A Little White Dress is an essential to have in your closet throughout the spring/summer…
2. White Capris… I love to think of this as THE essential for the spring/summer on the bottom!
3.  Cotton Scarves… Fabulous accessory to always have on hand!
4. Flip Flops… Easy shoes for the season! Easy-on. Easy-off.
5. Tank Tops… All different colors and styles, you can have a ton of fun with these classic pieces throughout the spring/summer.
5 FABULOUS Trends to add in…
1. Hoop Earrings… Beautiful earrings!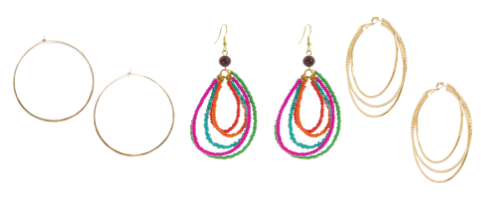 2. Stripes… Such a classic trend!
3. Florals… Delicate and elegant trend!
4. Espadrilles… The HOTTEST spring/summer shoe!
5.  Braided Belt… The best accessory!
What should be in your closet thing Spring/Summer
was last modified:
April 27th, 2011
by