Yesterday, my husband and I… aka Grandma & Grandpa, took our two beautiful 10-year old granddaughters rock climbing.  We had been promising them this first-time adventure for quite some time, and school vacation proved to be a good time to do it.
Taylor and Maddie are cousins, born 3 months apart and nearly inseparable in the decade to follow. They laugh, smile, sing, break into dance moves, ask the greatest questions, tell jokes and riddles, offer opinions on everything from American Idol to fashion, read aloud from books they carry in their backpacks and purses and generally keep Grandpa and me laughing right along with everything they say and do.
But these two girls are also active, daring, adventurous, courageous and incredibly athletic… meaning, for rock climbing with them, I had to bring my best game.
(Let me go back a few thoughts, here.  I am not a rock climber.  I don't climb.  I really had no idea what to expect and I certainly had no idea what to wear.  Heck… I didn't even know if I'd be doing it!)
OK.
Grandpa didn't have the same concerns.  He put on a pair of  comfortable khakis and his favorite red Portugal shirt.  (I think the red shirt was so I could spot him when he climbed out of my eye range… even though Grandpa had never rock climbed either. Ever.)
My thinking was more on the line of don't I have to wear one of those harness things that might make my top ride up and scare the Big Wall outta everybody near me. Translation:  I didn't want my belly or my boulders coming out to play.
What to do?  What to wear?  Ah… how about my 4all tank and jacket!  I wear these running all the time and love them for hugging my body comfortably, not riding up, keeping me dry and yes, looking good, too!
So that's just what I did… and I felt so fabulously comfortable that I did some rock climbing things I never imagined doing!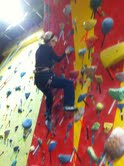 Who knew that 4all would take me on the great adventure of rock climbing with my granddaughters and Grandpa!?
So… when does this rock climbing team do it again!?
Thanks, 4all for REAL!
4all for Real!
was last modified:
July 21st, 2017
by