Last week, I wrote about the Button Tin that had belonged to my late mother-in-law Flo. I know she was sifting through those buttons with me… because I had a special little project going on for her precious great-grandchildren. NanaFlo's love for her great-grandchildren was, and still is, bigger than all the button tins on earth and in heaven combined. We were searching for 9 buttons… one special button for each of the 9 children… and I'll tell you why…
NanaFlo loved to knit. She spent countless hours creating masterpieces with her fingers and hands and knitting needles. Her needles and yarns were kept in a special basket next to her favorite chair. When I think of gifts… when I think of babies… when I think of children… when I think of Christmas… I think of NanaFlo knitting. This Christmas, I wanted to create something for NanaFlo… something for my grandchildren to remember this most special and loving lady…
So I wrote a story. I wrote a story about a lady knitting. I wrote a story about the great big kindnesses of a lady knitting. I would have asked NanaFlo to knit special blue scarves for my grandchildren if she were still here on earth with her dancing needles… but I went to my next greatest source… my dear, beautiful, talented friend Renette. Renette loved Flo. Flo loved Renette. It was the perfect match. Renette knit 9 perfect scarves for my 9 grandchildren… each with a touch of lovely yellow… just like in my story.
So where do the buttons come in? NanaFlo and I found a special button for each child's scarf… from her button collection. "Pearl" and "diamond" for the girls. Shiny military-style, all different but very much alike, for the boys. I sewed one special, individual, hand-picked and heart-loved button on each Blue Christmas Scarf.
Yes, NanaFlo was with us last Saturday afternoon as Barry read the story of the old lady knitting to our grandchildren… the story all set up and printed with spaces for the kids to draw their own illustrations… wrapped in the spirit, and the scarves, of NanaFlo's great love!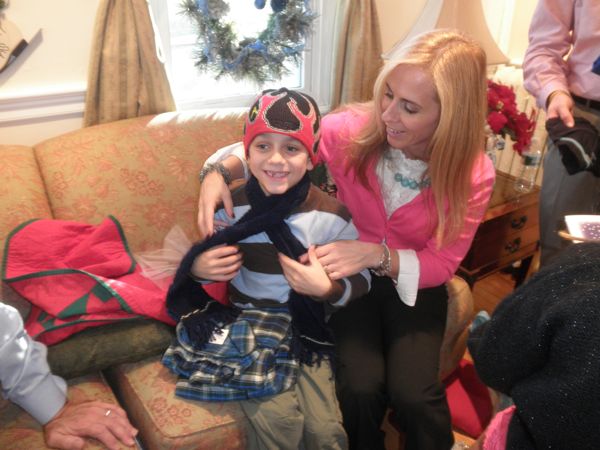 The Blue Christmas Scarf
was last modified:
November 18th, 2010
by