On Sunday afternoon I took Henry on a much dreaded trip (for him)… shopping with Mommy for clothes. I wanted to grab a few new things because I have a lot of events and trips coming up, so I brought along my little man to "help me."
I have had my eye on a couple of things from the LC Lauren Conrad line at Kohl's. She's got some great boho-type items and I love the colors (pinks, greens, purples and blues) that she has in her Fall Collection. (And I will admit, I was a huge Laguna Beach fan!) But she had 2 items in her Collection that I absolutely LOVED…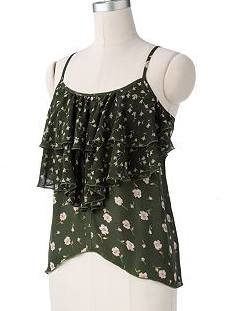 The problem was… they didn't have my SIZE at the store (in anything). UGH…
I loved the items enough to ask an employee if she could possibly call one of the other Kohl's store's in Rhode Island to see if they happened to have my size in those items (I didn't want to order online and then have to pay all the shipping). She said to me, "Did you already try the Kiosk?"
KIOSK? NO… I hadn't. And then she showed me the "way…"
Kohl's has a KIOSK in every store now where you can scan the item you like, see if the have the size/style/color you want and then you can order it and have it shipped to your house – FREE SHIPPING. I was able to get both the items I wanted, in the size I needed, in the color I preferred and have them sent right to my house… plus, I was able to still get all the same discounts as in-store and was able to add in the promotional code I had on me, too! It was AWESOME!
I had know idea Kohl's had this service in their stores. SO… if you're in a Kohl's and don't see what you want, do not fear… you can still get it!
**It also saved me a ton of time being with Henry. I didn't have to wait while the girl called every store to see if they had what I needed, I was able to do it quickly on my own!**
Have you tried a Kohl's Kiosk? I love it.
was last modified:
November 2nd, 2010
by