On October 5, my countdown began: 30 days until my 30th birthday. In honor of this, on each of the 30 days leading up to my birthday I will recount one memory from the past 30 years… either one that has helped define me, one that makes me laugh, one that makes me think, one that encourages me…  or maybe a little of everything. If possible, I will post a photo to go along with the memory.
It's my 30/30/30 Project: 30 years. 30 memories. 30 days.
Here is my memory for Day #5:
I don't remember everything about my first day of Kindergarten, but I do remember some important details. As for the other parts of that day, well, there are photos to help fill in the blanks.
I was probably looking forward to Kindergarten because I looked up to Audrey in every way and she was going to be a big second-grader at the same school. I suspect we were both excited about being in school together, and the way we're holding hands in this picture tells me I'm right. Audrey has always been my "second mom," taking care of me and protecting me in any situation.
I love that we had matching haircuts and matching backpacks, and that we wore matching outfits (blue stripes for Audrey, pink for me), right down to the blinding white socks and Velcro sneakers, which look like they weren't so much as breathed on until the First Day of School morning.
I don't remember this photo being taken, but I know it had to be been taken by Mom. Audrey and I rode the bus to school that morning, and Mom followed the bus in her car. I do remember sitting at the back of the bus and waving to Mom behind us. I think she wanted me to experience the bus ride that would become an everyday thing for me, but she still wanted to be outside of the school with us and photograph us as we walked in.
That's where this photo was taken – on the front lawn right outside of the school.
Again, I don't remember all the specifics, but I'm sure I was both nervous and excited that morning. I am sure Mom remembers more than I do, and I wonder if she cried as she drove away, knowing that her baby, the last of her 4 children, had just started school.
And now, I wonder if she can believe that her baby started school 25 years ago.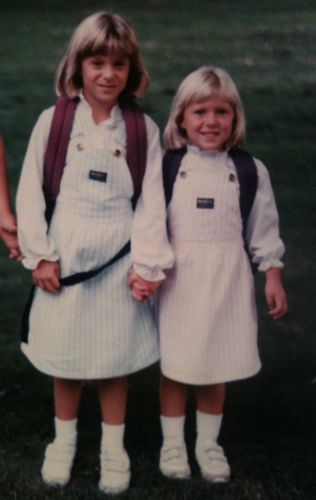 The 30/30/30 Project (Day #5)
was last modified:
July 24th, 2017
by