There aren't many things in life that leave me speechless. Like, really speechless. The past couple of weeks have been a record for me in this "speechless" department. First it was William's first day of swim practice. Then it was Alex and Ben jumping off the diving board by themselves. Then William's first swim meet.
And then there was today. The Amica 1/2 Ironman in Providence, RI. My mother, sister, brother and sister-in-law competed. The weather was hot… sticky hot. The course – 1.2 mile swim, 56 mile bike and 13.1 mile run. Honestly, just typing it makes me tired! It's tough thinking of 4 people you love so much all competing in this gigantic race… you're nervous for them, excited for them and just plain psyched for them!
To see the smiles as the raced…
It was pretty AWESOME to see my sister and brother cross the finish line…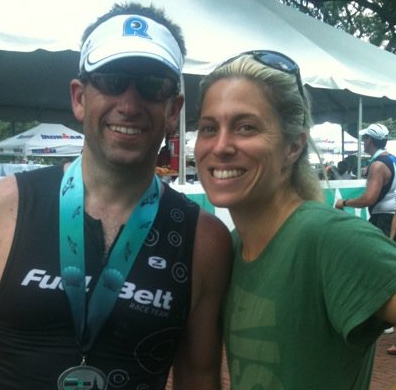 And then there was my mother…
I have to admit, I was a little bit more nervous about my mother competing. My sister, brother and sister-in-law have competed before. Not my mom. She's 57 years old. 57 YEARS OLD! Last year at this time she could hardly run 1/2 mile, never mind do everything else that comes along with a 1/2 Ironman. I have watched her run and bike and swim over the last 6 months every single day. Her dedication, determination and devotion to this race has been beyond inspirational. Whenever I think I can't run 2 miles, I (now) think of my mom and keep my mouth shut! Today she shined. She sparkled. She dazzled. She just was INCREDIBLE! And… the BEST part of all!! She WON her age group of 55-59 and qualified for the Foster Grant World Ironman Championships in Clearwater, FL this November!!!!!!!!!!!!
Ironman? IronFAMILY. (Minus me)
was last modified:
July 11th, 2010
by