Appaman has always been one of my favorite Kids brands. Their clothing is fashionably-urban and just COOL. It's nearly impossible for me to describe Appaman without mentioning the coolness, it's got that "it" factor that make kids look (and feel) oh-so-fabulous. There's a youthful glow and energy among the clothing – the colors, the designs, the fabrics… it's perfection. If you've got children between the ages of 6 months and 8 years old… check Appaman out!
My sons love Appaman's ape. It's pretty plain and simple for them… they love the clothing because of the ape. They think that is cool. The ape's association with Appaman is a really neat story. Appaman is inspired by, and named after, the childhood companion of founder and designer Harald Husum. While growing up in Norway, Husum befriended a corduroy ape named Appaman. Together they traveled the fields and fjords of their native land, sharing many fantastic adventures. Appaman reflects the whimsical spirit of those youthful times and celebrates the unbreakable bond between a boy and his ape. I love that about this brand… each of my sons have their own "Appaman" and it's amazing to see what this childhood bond turned into!
There are so many things I love about Appaman for my boys… beyond the "cool" factor. The clothing fits well. The quality is superb. You can wash these clothes over and over and over (and over) again and never have to worry about shrinkage. And for me… with 4 boys, the clothing stands up to the "land of boys…"
We're all about jumping (which gives me gray hair)…
We're all about climbing trees (with Daddy's help)…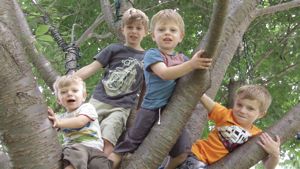 We're all about running and chasing…

And testing strength (oh, my!)…

It's everyday wear for my boys… and I love that they can do anything and everything in the clothing that they want to do. Boys will be boys… and in their Appaman clothing, they can look cool doing it! 😉 The vibrance, the energy and the passion in Appaman is reflected through every garment.
'Cuz… after all, once they're dressed – they're off and running…
*Appaman sent me clothing for the boys to try out.
Appaman: Fashionable Street-Cred for KIDS
was last modified:
June 13th, 2010
by