It began with balls. Softballs, that is.
One evening last week I was walking with my granddaughter Taylor after her softball game, and she was telling me about how she was named Most Valuable Player at her previous softball game. Excitedly, I said, "Did you get the Game Ball?" Taylor said that they didn't give Game Balls, but she was very intrigued when I told her that I still had Game Balls from when Auntie Audrey and Auntie Janie played softball when they were young. I told her that everyone on the team signed the Game Ball… and that it became quite a nice keepsake.
(Ah, Keepsakes. I am the queen of keepsakes… which led me to my adventure of attempting to "edit" my home, one room at a time.)
Anyway, when I got home that same night, I went right to the bookcase where those Game Balls were sitting… and I wondered why Barry and I still had those balls. Then it hit me. Barry and I are the king & queen of Keepsakes… and we had to do something about it.  Somethings like give "things" to their rightful owners.  Donate some things.  Toss some things.  I imagined bright, freshly painted white shelves with nothing on them.
EDIT our stuff.
We made a plan to begin in our study, a room we love and that is packed with the stuff memories are made of…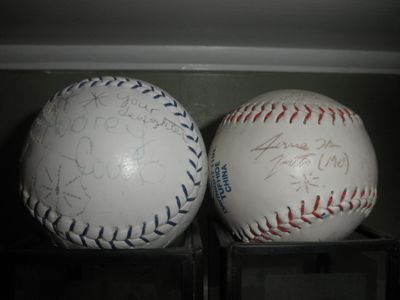 I stood in the center of the room and tried to do a 360.  But each time I moved an inch, I saw something I love.  Something I cherish.  Something that fills me with joy.  Something that someone touched or gave to me or us with the joy of giving.  Something from another day, another year, another time… something, like the balls, that I can tell my grandchildren about.  Something that makes them smile and makes them ask me to tell that story again.
The Game Balls.  The poker chips from Nana Flo and Papa Joe, and remembering the clinking sounds and laughter when they played poker with friends.  The green glass dove that belonged to my Nana.  The signed Arthur Miller book from our trip to Boston so many years ago.  The Encyclopedia Britannica that my Dad bought for me when there was no money what-s0-ever to invest in such a luxury.  The glass-encased Japan doll that my Dad brought home for me from Japan while in the Navy.  The antique Underwood Typewriter.  The books in the basket in front of the fireplace, books that our children loved and now our grandchildren love.  The photos… oh, the photos.  The books, many of them gifts.  The jar of marbles from as far back as I can remember.  The War Ration Book pouch from the Bicho home.  The prints that Barry and I fell in love with and had framed over the years.  The candle holders.  The "egg" gift from Taylor.  Our wedding invitation.  Nana's button tin.  Tankards from my Mom's trips to Spain and Germany and Italy.  Drumsticks from Barry's Dad.
It seems everything has a story.
BUT… I guess I just need to start with a set of balls.  Game Balls, that is.
Maybe we won't end up with those white shelves filled with nothing (and easy to dust), but we can give some of these things and memories and stories away.  Maybe.  Or maybe we can wait a bit longer, because we're the ones with the stories right now.  Maybe.
Or maybe we can just start in another room.
Balls… and then some
was last modified:
May 14th, 2010
by