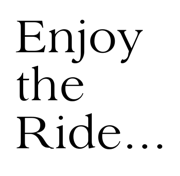 I remember loving May 16th (Faye Lerish's birthday – one of my best friend's from childhood) throughout my childhood. I love May 16th because I knew… in 7 days… it would be my birthday. May 23rd. I have always loved my birthday. I'm one of those people who has literally spent the last 30 something years counting down from May 1st to May 23rd… every single year. I love the excitement and anticipation.
I woke up this morning at 6:48AM – still on vacation with my family at the Jersey Shore (more on that later!) thinking, today's Faye's birthday… and next Sunday, it will be mine.
It's funny the things you remember from childhood, they creep up on you sometimes… and give you a warm smile.
My son asked me this morning what I want for my birthday… I saw a beautiful sign last night in a shop called "The Islander" on the boardwalk in Ocean City, NJ. The sign read, "Enjoy the Ride." When I saw that, it made me smile from ear to ear. Enjoy the ride…. simple advice, but oh-so-true. As I'm about to ring in my 32nd birthday… I want to always ENJOY THE RIDE.
7 Days and Counting…
was last modified:
May 17th, 2010
by