When it comes to jewelry, I'm a NECKLACE LOVER!  I still don't have my ears pierced (a definite to-do in 2010!).  And as much as I love bracelets, there are only a few that I rotate through.  I'm a huge bangle and gold cuff lover. But necklaces… oh, man… I just LOVE.   You will rarely ever see me out without one (or two) on. I've been searching for a fabulous hanging jewelry organizer!
Hanging Jewelry Organizer
Which brings me to the fact that I have about 50 necklaces and (I will admit) never have been too good at storing them.  I'm going to regret saying this (especially after my mom reads this), but I just have a necklace drawer.  They're all tossed in there… and yes, every time I go and get one, I have to do that annoying de-tangle dance. Hanging Jewelry Organizer is what I need STAT!
So… when I picked up this month's issue of Redbook (with the gorgeous Kelly Ripa on the cover) I was mesmerized. I mean – MESMERIZED!!!! Hanging Jewelry Organizer is everything. I just love it to pieces and really wanted to make it work for my house. How easy is this to just pop up and use for your necklaces? It's GENIUS! Absolutely GENIUS!!
A fabulous (and chic) jewelry organization tip from Redbook editor Stacy Morrison.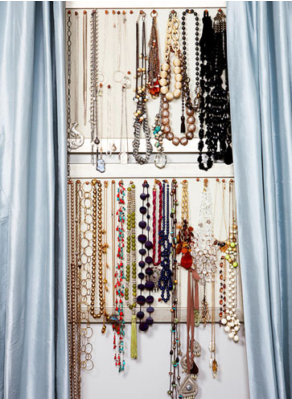 Bulletin Boards!  Truly… it was like that "OMG, that's genius – why didn't I think of doing that!?"
So, if you're looking for a clever way to store your necklaces, this is a great idea.  I passed this along to my sister-in-laws for my nieces.  I figured my 8 and 9 year old nieces can paint the bulletin board with some funky paint and just have some fun with it! It's super Hanging Jewelry Organizer!!
Not to mention, it's a lot less expensive than buying a jewelry box.
Hanging Jewelry Organizer
was last modified:
February 18th, 2019
by