Barry loves to cook.  Anything.  But his specialty, in the eyes and tummies of his grandchildren, is breakfast.
He has been talking for awhile about getting a new griddle for his pancakes.  Nothing electric or new-fangled… just a nice griddle that allows him to make his famous pancakes in bacon grease.  Gotta have the bacon grease, just like his mom did.  Our old griddle is round and nice and all that, but the non-stick stuff is just about at that yucky point.
Yesterday afternoon we found ourselves at Macy's looking for new dress shirts for Barry… and a new griddle.  We looked at, touched, measured, examined, held, studied and hmmmmm'd every single griddle in stock.  (I'll toss in here that my humble opinion meant nothing in this process… Barry is the breakfast guy, not me.)  We he finally settled on a Calphalon Contemporary Non-stick 11″ Square Griddle, which just happened to be on sale at 50% off.  We liked this.
So, this morning, Pop-up got to put his new griddle to the test.  4 grandsons.  4 hearty appetites.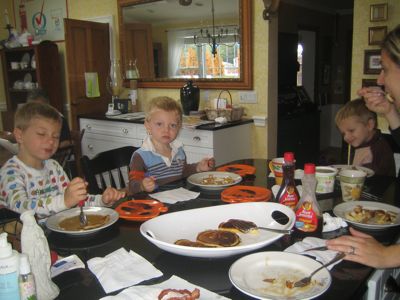 Calphalon… you came through big time.  A grandfather and a griddle.  Don't mess with success!!
Pop-up's got a brand new griddle
was last modified:
February 9th, 2010
by