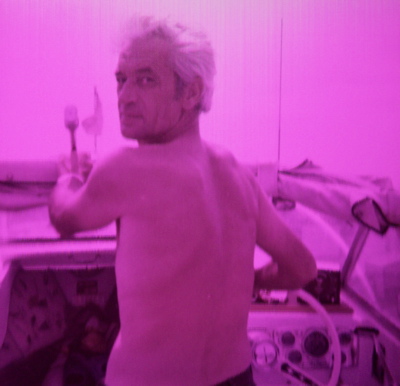 Today is my Dad's birthday.  This photograph was taken in July 1975… my Dad navigating his boat… one of the things he most loved to do.
He would have been 81 years old today.
He died in August 1975 at age 47, just weeks after this priceless photograph was taken.
There is not one moment of those 34 years that I have not missed my Dad.
I missed my Dad at my wedding.  I am his only daughter, and he always sang Daddy's Little Girl to me and told me that he would cry a river at my wedding.  Instead, I cried a river alone on that day.
I missed my Dad on those beautiful days when a much-wanted pregnancy test was positive.  My Dad always told me how much he wanted grandchildren.  He would tease me about spoiling them and then going home… exactly as I do with mine.  I missed him holding my babies and I miss him holding my grandchildren, hugging with his giant warm hugs that I came to cherish as priceless gifts.
I still miss my Dad on each of my birthdays.  He is the one who loved to decorate our cakes.  He is the one who always stood behind the camera shouting, "Smile!"  He is the one who captured moments that I have come to cherish as priceless.  On my 22nd birthday, my Dad was captured in a photo that means the world to me.  He would not be here on earth to celebrate my 23rd.
I miss my Dad each time I run.  When Barry and I were married, we moved to what we in Rhode Island call the other side of the bridge.  In that case, it was the East Bay.  You would think that this bridge is as sprawling as The Golden Gate.  It is not.  This is the George Washington Bridge and it takes all off 3 minutes to cross, in traffic.  But 4 years ago, Barry and I moved to this side of the bridge… the West Bay.  I spent my adolescent years very close to where I now live, and my Dad had a small boat docked in our local harbor that he loved.  He was retired from the Navy.  He loved the water.  I loved my Dad, and we spent a great deal of time together on that boat… conditioning it for summer, sailing on our spectacular Rhode Island waterways, diving off the side, preparing it for winter.
When I began to run to prepare for my first Sprint Triathlon many weeks ago, I found myself running down to the harbor.  Some days were frigid.  Some days were windy.  Some days were gloriously warm.  Some days were rainy.  But on each run, I felt my Dad.  I felt his giant warm hugs.  I felt his goodness.  I felt his smile.  On more than one day, I found myself sobbing… sobbing like a baby as I ran by our dock, our place, our haven.  On other days, I found myself waving.  On most days, as I run past the very place where I spent so many beautiful moments and days with my Dad, I smile at the sweetest memories that I have come to cherish as priceless.
I did not have my Dad long enough.  He did not have enough birthdays.  He was a good, good, good man… and I have never reconciled his sudden death with how the world continues to turn.  I know he has sent me Barry and my beautiful children and grandchildren and wonderful friends.  I know he is proud of me for taking care of my Mom as he would have.  But my heart is filled to the brim and to overflowing with the things that I would have shared with him and said to him.  In person.  In his giant warm hug.
Today, I wish to celebrate my Dad and his birthday.  My Mom always had a nice little family celebration for him… and, of course, he sparked up the grill, made his perfect hamburgers with his hamburger press and tipped a beer in cheers.
Tonight, I will tip my beer to my Dad.  I know I will be crying.  Because tears are pouring from my eyes as I type.  I miss you, Dad.  I cannot express the depth of this missing.  I know you are here.  I know you are with me each moment.  I want to say HAPPY BIRTHDAY!  I will see you down at the harbor when I run there today.  I LOVE YOU!  And I still cherish each moment of my life because you are still in it…
Now, please hug your Dad today.  Please give your Dad two giant warm hugs and send one to heaven for me… for my Dad… on this most special day.  I know my Dad will get it!  And I know that he is smiling his giant warm smile!
June 5th
was last modified:
February 9th, 2010
by