Friday night I was lucky enough to chat with Jasmine from www.FashionGrail.com on my Blog Talk Radio Show, "Feel Good Fashion". We were talking fashion (of course). And trends. And PANTY LINES. Don't you love it when women get going? Anything and everything comes up.
So… panty lines. I think we can all agree – across the board – panty lines are a big-huge-gigantic fashion DON'T.
How do you prevent panty lines? Well, there are definite measures you CAN and SHOULD take.
One of them? It's my Fashion Advice For Moms today, Day #46: Say hello to the No Panty Line Promise Collection at Jockey.com.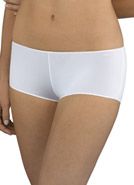 I'd show you exactly what I mean in a vlog… but, well, then my Fashion Advice for Moms would take on a whole new audience, so I will spare you and not scare you. 😉 (The photos above will have to do the trick!)
Jockey's No Panty Line Promise Collection also includes camisoles, leggings and tops. We've all had the, "Can you see my panty lines?" panic run through us. Now you can be SURE there aren't any visible.
Panty lines? What panty lines?
was last modified:
July 27th, 2017
by