First to the Polar Express train in North Conway, NH… which brought us to the "North Pole!" Have you ever been to the Polar Express North Conway? It's absolutely magical and beautiful and full of wonder for the kids. We took the 4 boys and they were just mesmerized by it ALL! I high recommend the Polar Express North Conway because it's something you and your kids will never (ever) forget.
Polar Express North Conway
I wanted to share our own personal experience with you because it's easier to see things in action than it is to just read about them on a page. Before I get going, I wanted to share a little bit about the Polar Express North Conway with you!
Join us on the family adventure of a lifetime aboard the magical Journey to the North Pole™! The Journey to the North Pole™ offers a truly unique experience that only happens here in the beautiful White Mountains of New Hampshire, with adventures departing from North Conway and Lincoln, NH during the holiday season in November and December each year.
A two-hour adventure, The Journey to the North Pole™ takes you on a magical trip to see Santa in his workshop at the North Pole!
You and your family will board the Journey to the North Pole™ train and be served delicious hot chocolate by our magical chefs, along with some of Santa's favorite treats! Once arriving at the North Pole you'll be escorted by elves (Santa's helpers) outside and up to the North Pole Theater having the opportunity to leave your Santa letters at the Post Office, as well as visit with some print shop elves along the way. The classic "The Night Before Christmas" poem by Clement Clarke Moore is dramatically read along with a visit from Santa himself, truly a magical event for all ages! Each child will receive a special gift on the return trip back to New Hampshire.
Here it is in photos!!
The Polar Express brought us to the "North Pole"… where the boys listened to a reading of the Polar Express (in their jammies and with 2 of their cousins!).
Where SANTA made a surprise appearance!
I'm telling you – it's worth you exploring! It's a little pricey, but it IS worth it!
AND then… while in New Hampshire SANTA'S VILLAGE in Jefferson, New Hampshire!
There we go… into the igloo to bring us in!
William was our navigator all day with his map.  It just melted my heart.  He checked everything off he wanted to see.
We fed Dancer and Prancer… seriously, they were named!  It was so cute.
William and Alexander got me on the ferris wheel.  I was sick with one spin and terrified of the height!  The boys?  They were loving it… I had to be strong! 😉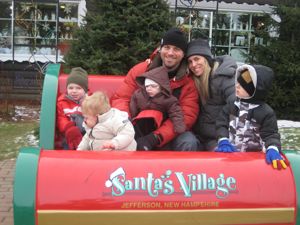 It was a great day!  Even when we were all so cold we couldn't feel our toes!  We were basically bribing the boys at this point to smile for the photo!
It was just so much fun! Make sure you add these items onto your New England experiences during the winter months!

Polar Express North Conway
was last modified:
February 5th, 2019
by