Listening to a talk radio show on my way home from a doctor's appointment this afternoon, a very interesting question was posed to the audience.  Lots of people were calling in with their answers.  In light of the state of the economy, many responses focused on disposable income, canceled vacations, even employment.  But what immediately came to my mind was something entirely different.
This is the question:  If you had to name one thing that is missing from your life, what would it be?
I didn't have to think at all.  The answer is my father.  My dad died 33 years ago, and not a day goes by that I don't think of him.  Miss him.  Talk to him.  As I was driving,  the sun was making the interior of my car so warm, so wonderful, so perfect… like a giant hug.  And I realized that this giant, warm, wonderful hug is my dad's legacy.  My earliest memories of my dad are his giant hugs.  I always felt so safe.  So cared for.  So loved.  Even when I was in big, big trouble (like when I tore my brand new winter coat), my dad always found  his way to give me a big hug when the proper time had elapsed for the punishment to have sunken in.  My dad's childhood was hard… he worked his parents' farm in Michigan.  At age 16 he tried to enlist in the United States Navy.  He was sent home to wait until he turned 17.  But he somehow realized that personal connections were the truth of existence.  He was a brilliant man.  He could fix anything.  Our old cars.  Our plumbing.  Our leaky roof.  He taught himself to fix things.  Most especially, he could fix your spirit.  That is what I miss so terribly.
When I arrived home today, I went straight to my attic to find the oldest of my family photo albums.  I carefully opened and turned each tattered page… as those shiny black photo corners became unglued and fell all over me.  And as each photo came to life, I saw an amazing pattern.  In each photo of me as a child, my dad was bent on one knee.  To my level.  This is the connection.  This is the love.  This is the miracle.  This is how he connected to me on such a spiritual level.  This is how he connected with the world.  I even found a photo of my dad hugging my childhood family dog, Chippy.  On one knee.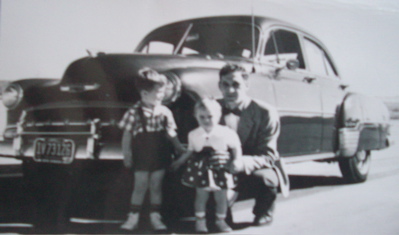 My dad looked at me.  He met my eyes.  He listened to me.  He loved me.  He still does.
But those warm, wonderful hugs from a warm, wonderful man…  I will miss these forever.
This last photo is my dad and me on my 22nd birthday.  He didn't live to see me turn 23.  He died of sudden cardiac arrest at age 47.  But what I do have are memories.  Photos.  And an angel guiding me and loving me and yes, hugging me. Yes, sometimes in the form of the warm wonderful sun enveloping me as I drive my car.
In one way, I think I am the luckiest daughter in the whole world to have experienced this great love of a dad and his only daughter.  But oh, God… do I miss him.  Yes, my dad is what is miss.   Every single day.
Now… if you had to name one thing that is missing from your life, what would it be?  I'd love to hear.
What's missing?
was last modified:
February 9th, 2010
by